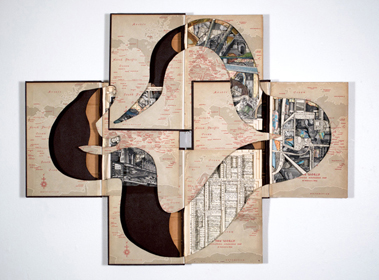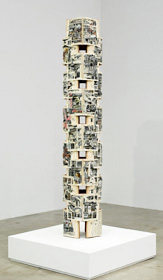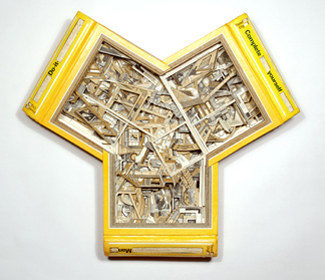 To view works, installations and studio, click categories under "Artworks" in the left menu, and click thumbnails to enlarge and advance.
-------------
BRIAN DETTMER was in a solo exhibition "Elemental" at:
the Virginia Museum of Contemporary Art, Virginia Beach, VA, May 30 - August 18, 2013.
This exhibition was organized by the Museum of Contemporary Art of Georgia, Atlanta, and will next go to:
Haverford College, Haverford, PA, October 25 - December 15, 2013.
Several of his works were included in "Rebound: Dissections and Excavations in Book Art",
Halsey Institute of Contemporary Art, College of Charleston School of the Arts, Charleston, SC, May 23 - July 6, 2013.
BRIAN DETTMER
is known for his artwork that involves the alteration of information media. A large body of his current work is created by altering vintage books and assembling sets of books into intricate and innovative sculptures. After carefully selecting the source and subject for his investigations, Dettmer determines the architecture of construction and aesthetics of presentation for his altered book artworks. Then, with the perspective of an archeologist, vision of an explorer and precision of a surgeon, using scalpels and x-acto blades, he selectively only removes, exposes and seals existing images and information to propose new conceptual contexts and map new visual journeys.
Dettmer has received international recognition, with his work being exhibited at museums throughout North America and Europe including the Museum of Arts and Design (NY), The Renwick Gallery of the Smithsonian Institute (DC), Museum of Contemporary Art (GA), Chicago Cultural Center (IL), and Museum Rijswijk (Netherlands); and with solo gallery exhibitions in New York, Chicago, San Francisco, Miami, Atlanta and Barcelona. His work has been featured on the CBS Evening News, The New York Times, The Los Angeles Times, The Guardian, Chicago Tribune, Art News, Modern Painters, Wired, and National Public Radio.
-------------
Artist Statement:
"The age of information in physical form is waning. As intangible routes thrive with quicker fluidity, material and history are being lost, slipping and eroding into the ether. Newer media swiftly flips forms, unrestricted by the weight of material and the responsibility of history. In the tangible world we are left with a frozen material but in the intangible world we may be left with nothing. History is lost as formats change from physical stability to digital distress.
The richness and depth of the book is universally respected yet often undiscovered as the monopoly of the form and relevance of the information fades over time. The book's intended function has decreased and the form remains linear in a non-linear world. By altering physical forms of information and shifting preconceived functions, new and unexpected roles emerge. This is the area I currently operate in. Through meticulous excavation or concise alteration I edit or dissect communicative objects or systems such as books, maps, tapes and other media. The medium's role transforms. Its content is recontextualized and new meanings or interpretations emerge."
Process:
"In this work I begin with an existing book and seal its edges, creating an enclosed vessel full of unearthed potential. I cut into the surface of the book and dissect through it from the front. I work with knives, tweezers and surgical tools to carve one page at a time, exposing each layer while cutting around ideas and images of interest. Nothing inside the books is relocated or implanted, only removed. Images and ideas are revealed to expose alternate histories and memories. My work is a collaboration with the existing material and its past creators and the completed pieces expose new relationships of the book's internal elements exactly where they have been since their original conception."
-------------
For Brian Dettmer CBS News Segment, May 2011 click
here
For Brian Dettmer Interview on YouTube click
here
For Brian Dettmer Talk click
here