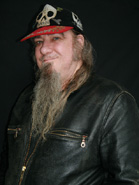 To view works click under
"Artworks"
on the left menu, and click thumbnails to enlarge and advance.
CLAYTON PATTERSON
has been a ubiquitous presence of the Lower East Side of Manhattan since the early 1980's, and is widely known for documenting this historic and fast changing neighborhood. He has chronicled this former urban magnet for the disenfranchised that has long been recognized for its creative influence far beyond its previous humble street corners.
Born in 1948, Patterson and his companion, Elsa Rensaa, moved from Calgary Canada to New York City in 1979. Since 1983 they have lived in the building they purchased on Essex Street, which by 1986 also served as the as the home of the Clayton Gallery and Outlaw Museum, showing artists outside the mainstream. Although trained as artists, they consciously sidestepped the confines of the art world. For many years they were in the spotlight of the vogue for their custom embroidered baseball caps that were sought after by celebrities and the cognoscenti. An ardent community advocate, Patterson also co-founded the New York Tattoo Society and helped win the fight to legalize tattooing in the City.
Patterson created an extensive photo and video archive of the Lower East Side. He has continually taken portraits of people posed in front of the graffiti-scrawled door to his safe haven storefront. He was there in 1988 during the Tompkins Square police riots (and has been arrested more than a dozen times for photographing the police), and he was at the closing concert of CBGB's in 2007.
The New York Times
described Patterson's endeavor:
He has amassed a huge day-by-day visual history of the area, told mainly through unpretentious portraits of its myriad and diverse faces: tenement kids and homeless people, poets and politicians, drug dealers and drag queens, rabbis and santeros, beat cops, graffiti taggers, hookers, junkies, punks, anarchists, mystics and crackpots.
This is a collection of photographs unequaled in its power to portray the people and times of a unique neighborhood that has become synonymous with American underworlds and subcultures. Patterson is a street photographer in the tradition of Weegee and Gary Winogrand, but his project is so life-encompassing that it is perhaps more akin to some outsider or conceptualist obsessively documenting one's environs. Patterson's photographs show an unedited humanity upfront and close-up. Each picture represents a door to a fascinating story, one that he can annotate with a sharp recollection and sensitive perspective.
He has also published two well-received anthologies: ''Captured: A Film/Video History of the Lower East Side,'' 2005, and "Resistance: A Radical Political and Social History of the Lower East Side," 2007. Two more anthologies are in the works: "Jewish History of the Lower East Side," and "Tattoo and Body Art in New York City".
A feature-length documentary film on Patterson and the Lower East Side titled
Captured
by Dan Levin, Ben Solomon and Jenner Furst is seen much through Patterson's lens and has received worldwide acclaim.
Click
here
for more information on the film
CAPTURED
.
For New York Times press click below:
NY Times Article, 2014
.
NY Times Article, 2009
.
NY Times Interactive Slideshow