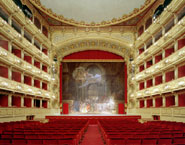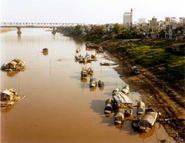 To view works, click categories under "Artworks" on the left menu, and click thumbnails to enlarge and advance.
DOUG HALL's
later large format photographs move beyond the one point perspective of his vacant, but detailed architectural interiors of libraries and opera houses, or the vast empty highways in the American west for which he first became well known. Taken from around the world, including the United States, Asia, South America and Europe, Hall's pictures show the global village of cityscapes and people in public places, contrasted at times by the more tranquil simplicity of natural and urban environments as well as his continual documentation of iconic interiors.
Since the late 1980's Hall has investigated the visual structure of how we experience spaces and the cultural conditioning of how we understand places. From stark institutional corridors and government offices to Baroque galleries and archives; from swimming pools in Las Vegas to reflection ponds in Asia, Hall's seductive photographs have long addressed how pictorial strategies can effect the way we see and perceive ourselves in the world.
Hall's photographic interests have long been in advance or paralleled that of his European contemporaries, especially Thomas Struth, Candida Höfer and Andreas Gursky. Although often his photographs remain completely unaltered, he was also an early pioneer in digitally manipulating his work and is not hesitant to use new technology as an extension of the camera and to better present what he sees and wants us to experience in the mind's eye.
Hall is internationally regarded for his media and performance collaborations with the group known as Ant Farm in the 1970's, as well as his pioneer and influential work in video and video installation. He has significantly contributed to the development of new art forms now commonplace and helped define an era of art making and cultural critique.
Doug Hall was featured in the 2002 Bienal de São Paulo and is represented in the collections of numerous museums including: Centre George Pompidou, Paris; Kunsthaus, Zürich; Museum für Moderne Kunst, Vienna; Museum of Modern Art, New York; Whitney Museum of American Art, New York; Museum of Contemporary Art, Chicago; and the San Francisco Museum of Modern Art.