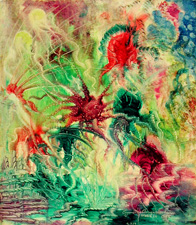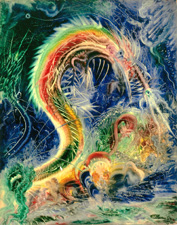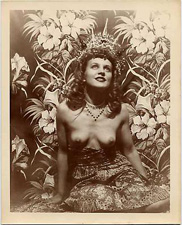 To view works, click categories under "Artworks" on the left menu, and then the pages thumbnails. Click thumbnails to enlarge and advance.
EUGENE VON BRUENCHENHEIN
was a reclusive self-taught artist whose visionary work was discovered only upon his death in 1983. Working in a modest house overcrowded with art outside of Milwaukee, Von Bruenchenhein painted fanciful and phantasmic landscapes of other worlds, some inhabited with primordial sea-like creatures. His skillful finger paintings were made wet-into-wet in one fervorish sitting. Besides writing poetry and theories on the genesis of life, he also compulsively made miniature sculptures from dried chicken bones, ceramics of plant forms and hundreds of loving, semi-nude pin-up photographs of his wife Marie.
Von Bruenchenhein thought of himself as an artist and approached his work with great passion. In his isolation he amassed a lifetime of highly unique works that are represented in many private and public collections including: American Folk Art Museum, New York; High Museum of Art, Atlanta; Museum of Fine Arts, Houston; John M. Kohler Arts Center, Sheboygan, Wisconsin; Milwaukee Art Museum; New Orleans Museum of Art; Newark Museum of Art; Philadelphia Museum of Art; and Smithsonian American Art Museum, Washington, D.C.
For more information click here
------------
Recent Press:

New York Times Review, Roberta Smith:
-
"Von Bruenchenhein belongs among the great American outsider artists whose work came to light or resurfaced in the last three decades of the 20th century: Henry Darger, Martin Ramírez, Bill Traylor, James Castle and Morton Bartlett"
To read more click here
The Magazine Antiuques:
-
"With him, as with the best outsider artists, Henry Darger (1892-1972), Achilles Rizzoli (1896-1981) and Adolf Wölfli (1864-1930), one has a reinvigorated sense of the depth and complexity of even the humblest souls."
- "But in paintings like those just mentioned-which fully deserve to be counted among the best American paintings of the last century-Eugene Von Bruenchenhein has every entitlement to be taken as seriously as Pollock or Jasper Johns or anyone else you care to name."

To read more click here

Frieze Magazine
To read more click here


------------
See Also:

Eugene Von Bruenchenhein at Kinz, Tillou + Feigen, Jan. 12 - Mar. 10, 2007
Eugene Von Bruenchenhein at Feigen Contemporary, Sept. 10 - Oct. 23, 2004