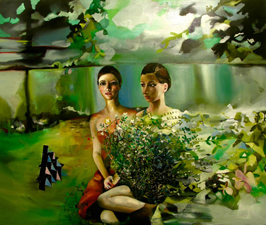 LIZ INSOGNA
's narrative paintings and drawings pose universal characters in simple alluring vignettes that address a range social dynamics as well explore a sense of self. Insogna explains that her provocative Sexuality Series of 2006-2007 "...present not only the obvious, but also the hidden and unconscious forces at play in attraction, desire, and need." Interestingly, she also volunteers that "I think many of the erotic inclinations in this body of work are close to death", as her most recent "Psyche's Reason" series of 2010 references Greek mythology and antiquity about the afterlife in relation to the modern psyche.
Insogna expresses what perhaps is inherit in both bodies of work: "The ghosts of the memories that haunt my characters linger with them into the present. Vaguely vulnerable and slightly threatened, they don't reveal too much. There is a sense of non-presence and non-commitment to the spaces they inhabit. These characters find themselves at a crossroads. They desire to leave their past, yet feel a responsibility to it."
Like a waking dream, Insogna's poignant paintings and drawings serve as allegorical reflections to ones own stage and metaphoric mirrors to ones own mythologies and psyche.
For information on Liz Insogna's 2010 Psyche's Reason exhibition click
here