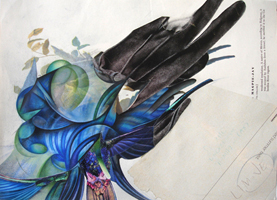 To view works, click under "Artworks" on the left menu, and click thumbnails to enlarge and advance.
In her recent series,
MEGAN GREENE
subverts and recontextualizes traditional Audubon bird prints, having long incorporated naturalist studies and images of flora and fauna in her work. In these intricate hybridizations she explores shifts between the found vs. altered, drawn vs. photographic, representational vs. abstract, and the beautiful vs. the grotesque. Her transformations dissolve, evolve and re-conceive the original hijacked images to become something known yet fully new.
-------
Greene's detailed white on black drawings combine imagery of flora, feathers, hair, jewelry and the like in manners Baroque and tribal. The careful topiary-like displays of such feminine ornaments both heighten and belie their frivolity, appearance of purpose and fetishistic quality. Greene's work shows her interest in mammals, birds, deep-sea creatures and insects to an effect reminiscent of Victorian naturalist drawings. These organic elements become ghostly, hermaphroditic and ornamental.
In each drawing, the strange composite of such components suggests themes transcendent of each literal part: of elegance and delicacy mixed with the macabre, of body parts and biological specimen through the incarnation of the prehistoric and futuristic, and of cultural artifact, be it headdress or totem. The subject of these drawings lies in the intentionally ambiguous interplay of these various qualities.
-------
Greene currently lives and works in Chicago. A native of Buffalo, NY. She graduated with honors from the University of Notre Dame in 1998, receiving the Emil Jacques Gold Medal of Fine Art and the Mabel Mountain Award for Achievement in Painting. She earned an MFA degree from Rutgers University in 2002 and was awarded the Dean Bettenbender Memorial Performance Award. In addition, Greene was awarded a Rotary Ambassadorial Scholarship to live in New Zealand. Recent Exhibitions of her work include Hallwalls in Buffalo, Katharine Mulherin in Toronto and the Institute of Contemporary Art in Maine. Her work is held in the permanent collections of the Albright Knox Art Gallery and the Burchfield Penney Art Center.