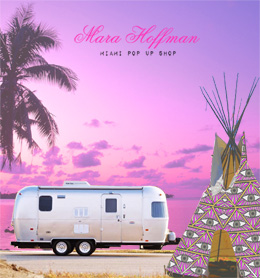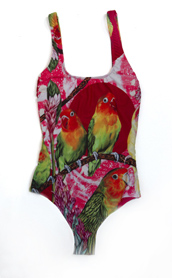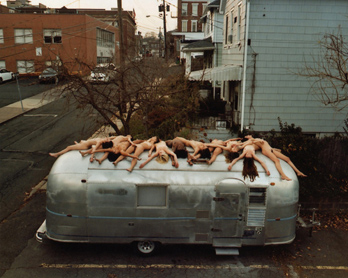 Mara Hoffman Artist Collaborations and Miami Pop-up Shop,
December 1st - 4th:
Fashion designer
MARA HOFFMAN
teamed with co-curators
MICHELLE TILLOU
of Kinz + Tillou Fine Art and
JACQUELINE NGUYEN
in selecting five artists with whom to collaborate in creating a limited edition swimwear collection. The project will be exhibited in a special roving retail pop-up installation with a vintage 1964 Airstream Trade Wind and 9-ft traditional tepee constructed from one of Hoffman's prints. The venture will be launched during Miami art week, December 1 - 4, at
Pulse Contemporary Art Fair
and the
Mondrian South Beach
hotel.
Collaborating artist include:
MAYA HAYUK, EDDIE MARTINEZ, JOHN NEWSOM, JAVIER PIÑÓN,
and
SPENCER TUNICK
For each of the collaborations Hoffman and the artist chose an artwork to be printed as two Mara Hoffman swimwear silhouettes or leggings. There will be a limited edition of fifteen per piece, numbered and signed by the artist. The project provides a natural tie-in between the worlds of fashion and art, and working with Pulse Contemporary Art Fair (www.pulse-art.com).
In conjunction with the project, Michelle Tillou asked SPENCER TUNICK to do a small-scale installation with the pop-up shop Airstream for a special suite of limited edition photographs. Tunick is world-renowned for his provocative photographs and live installations of mass gatherings of naked people in public spaces, and a small group of women were invited to pose with the Airstream in Nyack, NY.
Pop-up Schedule:
Mondrian South Beach
- 1100 West Avenue, Miami
Thursday, December 1st: 10 a.m. - 8 p.m.
Saturday, December 3rd: 10 a.m. - 8 p.m.
Sunday, December 4th: 11 a.m. - 6 p.m.
Pulse Miami
- The Ice Palace, 1400 North Miami Avenue
Friday, December 2nd: 11 a.m. - 7 p.m.
For more more information and images of the Spencer Tunick photographs
and Mara Hoffman collection click the menu selection on the left.

For Mara Hoffman, click here