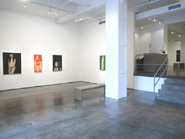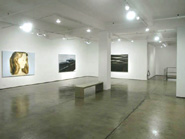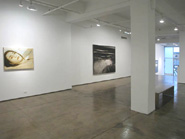 Joe Andoe
April 1 - May 15, 2004
Out on the Perimeter
I grew up way out on the east side of Tulsa, where it starts again before it stops. Once you're past the houses it's very pretty, like something you see hours north of 23rd Street.
The high school I went to sat on old Route 66 that was bypassed years before. Along that road, mixed with defunct highway businesses, were little farms with horses, and out further were fields where as teenagers we would go and hang out in our cars and get high, talk shit or have sex--all under three really tall radio towers that twinkled red lights at night. Sometimes horses would stand next to the cars and sometimes they looked in.
We all took pride in our cars and motorcycles. They were American. Made in the 60s, they were mostly medium sized with big V8s. The style was just under stock, clean, stripped down and sometimes not even painted. We always had good stereos and the cars were fast. My bike was a Sportster.
But our predators were the police and car crashes. Being in our cars a lot left us exposed to the cops who sometimes patrolled out there like a border.
All of us had police records, some more than me. But still, before I was sixteen, I got busted for acid and was put in jail over night on two hits of it. Then I got arrested for driving under-age and had to work at the zoo. At sixteen I got a car that I totaled and went on to total three more and was charged with DWI, DUI, and reckless driving and busted for drugs three more times before I was done being a teenager.
This was just the way things were. I didn't know any different. I knew it was bad and it drove my folks crazy.
Then I discovered painting.
-Joe Andoe
-------------------------------------------------------------------------------------------------
Born and raised in Tulsa,
Joe Andoe
lives and works in New York City. Drawing upon autobiographical territory, as well as archetypal American subject matter, Andoe works intuitively and spontaneously, often applying and removing paint with his hands. With minimal gesture and a pragmatic economy of means, he shapes shadow and light to create a reductive image, but one with immediate impact and lasting resonance.
Dark expansive landscapes, grazing animals, generic cars on the highway, profiles of the Empire State Building and portraits of friends are all part of Andoe's world. Andoe's iconic imagery and monochromatic palette show a directness and restraint that make for an essentialist work with formal resolve, and where pictorial illusion is more Symbolist allusion. Idea, image and an almost performative process of painting become one in pictures that capture recollection and memory, yet possess a certain timelessness.
Art writer Saul Ostrow observes:
"…Andoe's paintings – not his images – are texts meant to be read and re-read, interpreted and re-interpreted. What they are not is as important as what they are. After all, Andoe is not a landscape or genre painter involved in simple narratives. His images derive their metaphorical content not from the absent objects portrayed, but rather from the very means of their making… Paint is paint, a scratch approximates nothing more than itself, additive and subtractive processes do not become disguised as attempts to approximate the appearance of some other surface."
Andoe might recall simply the openness of Oklahoma or a girl from the past, but his paintings combine Modernist tradition, Minimalist integrity and a Pop sensibility to be something uniquely his.
Joe Andoe's works have been exhibited internationally and are in numerous museum collections including the Dallas Museum of Art, Denver Art Museum, The Detroit Institute of Art, Los Angeles County Museum of Art, The Metropolitan Museum of Art, Museum of Fine Arts Boston, The Museum of Modern Art, and Whitney Museum of American Art.